Name: Pawan Kalyan
Birth Name: Kalyan Konidela
Title: Power Star
Profession: Actor, Writer, Stunt master, Director, Producer, Playback singer, Screenplay writer, Choreographer
Date of Birth: 2 September 1971
Birth Place: Mogultur, Andhra Pradesh, India
Height: 5' 11"
Nationality: Indian
Mother Tongue: Telugu
Religion: Hindu
Father – Konidela Venkata Rao
Mother – Anjana Devi
Elder brothers – Chiranjeevi (Telugu Actor), Nagendra Babu (actor & producer)
Sisters -Vijaya Durga, Madhavi
Brother-in law - Allu Aravind
Nephews – Ram Charan Teja
Son-in-law - Allu Arjun,sirish,......
Nieces - Srija, Sushmita
Sisters-in law -Surekha, Padmaja
Wife – Nandini (Divorced) , Renu Desai
Son – Akira Nandan
Debuts
Film Actor: Akkada Ammayi - Ikkada Abbayi
Writer: Johny (2003) (screenplay) (story)
Stunts: Khushi (2001) (stunts)
Director: Johny (2003)
Choreography: Gudumba Shankar
Martial Art: Well versed in Akido martial art
Biography
Pawan Kalyan, the hero who could get huge following with just 6 movies to his credit and able to make his 7th movie grossing more than 20 crores, is a simple, humble and away-from-publicity guy. Media is always keen on him as they know nothing about him.
Pawan Kalyan was well resourced when he stepped into films. His big brother Megastar Chiranjeevi's ardent fan following getting ready to embrace the launch of another member from the Mega family, his second brother Nagababu - a producer, his brother-in-law Allu Aravind - an ace producer. What else would one need?
Pawan Kalyan was first married to Nandini, whom he divorced on 13 August 2008. Pawan Kalyan has been married to Renu Desai (On 28 January 2009) , a co-star, who is currently owning a design store called Designs. The happy couple are blessed with one son, Akira. Despite his latest release and directorial debut, the hugely expensive Johnny, faring disastrously at the box office, actor Pawan Kalyan's place among the top five stars in the Telugu film industry remains secure, at least for now.
Kalyan, younger brother of Megarstar Chiranjeevi, created a record in the Telugu film industry by selling Johnny for a record-breaking Rs 210 million and releasing it in more than 300 theatres. Viewers made a beeline for the first few shows, but the tragic tale of a young man running from pillar to post to save his cancer-stricken wife failed to click with the audiences.
His fans felt that if Kalyan had made a youthful entertainer -- the sort he's known for -- the distributors would have laughed all the way to the bank. A few industry bigwigs praised his directorial ability, but others questioned the choice of subject for his debut venture.
PawanKalyan receiving an award from his brother MEGASTAR CHIRANJEEVI.




Jalsa is the first south Indian movie to be listed in the top ten of American based 'Box Office Mojo'. This site surveys all of the movies released in the world and provides their gross earnings. Jalsa stood 9th in its listings for the weekend of April 2-4th, 2008.jalsa is the only fim which has released in 1000 theatres and completed 50 days in 282 centres.
Stil D Movie is Heading towards 100 Days wid an outstanding Colelctions Ever befor in telugu film industry. It Was d First Movie in telugu Film Industry which has beaten several records. The film completed its 100 day run successfully in 25 centers and collected 55 crores world wide in long run.



╠►҉Social Work҉◄╣
Pawan has started an organisation called Common Man Protection Force in October 2007. He has contributed 1 crore INR towards the corpus fund, CMPF aims to solve the social problems, help the neglected sections of the society. Its area of operations is in India. He intends to do it through organised militia, and seems to have got carried away with the ideals of Gudumba Shankar. CMPF targets child prostitution, Flourosis afflicted areas initially. News is spread that CMPF is changed to Common Protection force.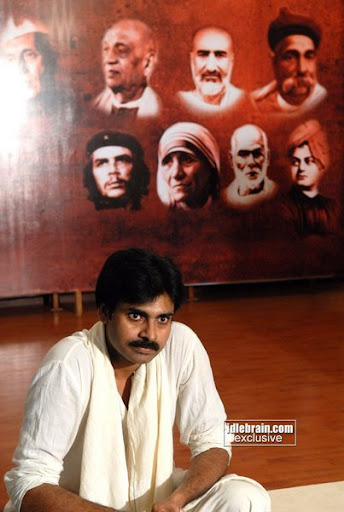 ╠►҉Che Guevera҉◄╣
He is inspired by some Scholarly persons,historians,revolutionary heroes.Mother Teresa,Swami Vivekananda,Che Guevara,Jayaprakash, etc are a few to cite. Often this nature of his can be seen in most of his flicks.Songs like "I'm an Indian" from Thammudu, "yeh mera jahan" from Kushi, "le le lele" from Gudumba Shankar are examples we can see a society oriented song from every movie of his.He is strongly against eve teasing which has been depicted in few scenes and songs.Pawan Kalyan is not a materialistic person.He would rather act in a movie with some moral than have a commercial block buster to his name.That's pawan to the core,SO POWERFUL YET SO SOBER. In this kind of an impasse situation he did reject or miss some movies.This was a great opportunity for many amatuers.Call it a twist of fate or whatever .. These amatuers became good heroes in the industry.Nithin,Tarun, Ravi Teja, etc .It's a well known fact that younger heroes enact pawan's mannerisms.Ram is a perfect example.One of his movies' script was stolen during halfway of the shooting and was released before it.This movie Nuvve Kavali was a huge hit and made Tarun an instant hero! A case was filed against the makers of Nuvve Kavali. Eventually the original movie 'Cheppalani Vundi' had to be ended and was never made.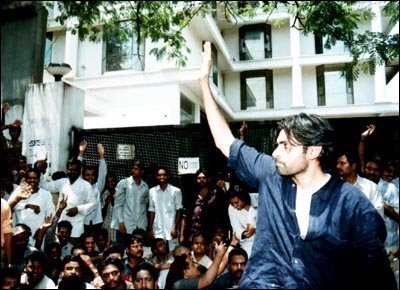 He always Says..

"I am neither a christ nor a philanthropist.I am everything contrary to a christ,and philanthropy seems worthless in comparision to what i believe in. I will fight with all the weapons within my reach rather than let myself be naild to a cross or whatever"
- che guevara


"Hatred is an element of struggle; relentless hatred of the enemy that impels us over and beyond the natural limitations of man and transforms us into effective, violent, selective, and cold killing machines. Our soldiers must be thus; a people without hatred cannot vanquish a brutal enemy."
-Che

Democracy is not compatible with financial oligarchy, with discrimination against Blacks and outrages by the Ku Klux Klan, or with the persecution that drove scientists like Oppenheimer from their posts, deprived the world for years of the marvelous voice of Paul Robeson, held prisoner in his own country, and sent the Rosenbergs to their deaths against the protests of a shocked world, including the appeals of many governments and of Pope Pius XII.
-छे


╠►҉ Philosopher ҉◄╣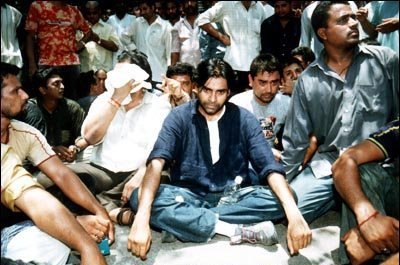 -Cruel leaders are replaced only to have new leaders turn cruel.


-I don't care if I fall as long as someone else picks up my gun and keeps on shooting.


-I know you are here to kill me. Shoot, coward, you are only going to kill a man.


-Many will call me an adventurer - and that I am, only one of a different sort: one of those who risks his skin to prove his platitudes.

-Silence is argument carried out by other means.

-The revolution is not an apple that falls when it is ripe. You have to make it fall.


-Whenever death may surprise us, let it be welcome if our battle cry has reached even one receptive ear and another hand reaches out to take up our arms.

-Until the Victory Always

All these were quoted by Pawan Kalyan..

He is On Screen and Real Life Hero Too..


Favorites
Director: Akira Kurosawa
Food: Vegetarian
Hobbies: reading books and planting saplings
Music: Carnatic
Rose to fame: Toli Prema
Admires: A.M. Rathnam, P.C. Sreeram.
Others about Power Star
Madhu Ambat ( great cinematographer)...."I have hardly seen youngsters who have that much great knowledge and clarity on film making. Pawan is one of them and he always thrives for perfection."
A.M. Ratnam ( a veteran film maker-Surya Movies) ... " To the extent of my knowledge, there are only two people who have great judgement and crystal clarity on commercial film making in south India..one is Rajnikanth and another is Pawan kalyan".
Trivikram Srinivas... " He is one of the greatest personalities I have ever met. I got inspired and have learnt many things from him...He is not only a reel life hero but also a real life Hero."
Surya ( Veteran actor --gold medalist in Asian school of drama)..." I have noticed an approach like a hollywood director in him. His hardwork and passion for better output inspired me a lot."
Special Appearances:
Shankar Dada MBBS....Cameo Role
Shankar Dada Zindabad...Suresh
Writer:
Satyagrahi (2008) (in production) (screenplay)
Gudumba Shankar (2004) (screenplay)
Johnny (2003) (screenplay) (story)
Stunts:
Johnny (2003) (stunts)
Daddy (2001/I) (stunts)
Khushi (2001) (stunts)
Director:
Satyagrahi (2008) (in production)
Johnny (2003)
Music Department:
Johnny (2003) (playback singer)
Filmography
Generallyy..all his movie dont match in any contentt frm one another..all dat matches is his style of acting..style..d way he speaks to d other char in the moviess...rather wonderingg how dis person has the breathtaking actinnggg..its beta we could recall the best and damn crazyy scenes dat u luv to see him again n eva againn

Manodu baita entha decent innocent face pettinaa..movies lo his comedy scenes..sense of humour ..chaaluu could get both his on n off screens style


his ignorancee..baalu lo brahmi thoo..na peru baalu balraju ..am a boqueist anadam instead florist..intro isthu face lo oka smile ivvadamm something gr8 feeel tho dhaaniki brahmi face xpressions..

againn in jalsa..chillar edi ra
.. face lo chiraku feeling tho ne back tirgakunda adgatamm nd then back brahmi bhayapadatam..shld thank trivikram fr d best comic takingg

his careless dressingg..adi kuda style ee..obvious ga wat eva he does
..it would be a trend ..jalsa lo illi tho lift nunchi baitiki ragane..she would be waitingg fr him..apudu pawan belt petkuntu alage chusi belt leave chese nadusthaduu..donno how his thinking looks so contrast frm others..and then gudumba shankar lo double pantt..it was a fashion fevr fr d youth at dat movie release time..


Malli neva forgetable moviee..Kushi lo black shirt veskunii ..gudumba sathi n co villians unapuduu..kathi patkunii atu ituu ease and relaxingg walkk tho antha pedha dlg cheppadamm..these sceness dey something make us get a diff view on pawan

Ilantivii konni keka scenes..avi pawan thappa vere ee hero chesina janalki kaneesam idea lo ki kuda raadu..he joins his charm and spectacular feel fr thosee

Inkaa gurthu ravatlee..do share some of ur bestss n loving scenes of him..


Expectingg more dis kind frm his upcomingg venturess ..agree or not..movies lo.. pawan movies especiallyy..content kanna fans chusedhi ekuva only him n his haptic aspects n manerisms.. ..



He truelyy rockss !
Trivia
* Pawan Kalyan is a Vegetarian.
* He holds a Black Belt in Martial Arts and did real stunts for his movies - Akkada Ammayi Ikkada Abbai and Thammudu.
* Renu Desai is the Costume designer for most of his films.
* Pawan Kalyan was the first south indian actor to appear in an endorsement,for the soft drink PEPSI but now replaced by his nephew Allu Arjun.
* He returned money back to the distributors for his film Johnny.
* Apart from being an actor, he feels also as a Director, Screenplay writer, Choreographer, Stunt Master and a Playback singer.
* Pawan enjoys doing cultivation and spends lot of time in his farm house doing gardening
* "Victory" Venkatesh is a good friend of Pawan Kalyan and both expressed their interest to act in a film.
* Tamil sensational actor Vijay is also a good friend and great fan of him.
* Tamil and Telugu actress Trisha in an interview said that, she had a crush on Pawan Kalyan.
* Telugu movie actress Nikita's favourite hero too is Pawan Kalyan.
* Telugu actresses Genelia and shriya are also big fans of pawankalyan.
* Telugu actresses Ramya is also a big fan of pawankalyan.
* Telugu actresses Suhani is also a big fan of pawankalyan.
* Telugu actresses Sonali is also a big fan of pawankalyan.
* Telugu actresses Radhika Verma is also a big fan of pawankalyan.
* Telugu actresses Bhumika is also a big fan of pawankalyan.
* Telugu actresses Mamata is also a big fan of pawankalyan.
* He has a good rapport with music director Ramana Gogula and the creative directors - Puri Jagannadh and A. Karunakaran.